Internal links are links on your website that link individual subpages to each other. Depending on how the internal links between the subpages of the website are built, Google (and website visitors) better understand the "connection" of web content with each other, and consequently the broader context of the entire website. As a result, a website with more meaningful and meticulously built internal links ranks higher in the Google search engine.
Internal links are links to web content on the SAME website or. on the SAME web domain.
Example of built internal connection
Internal connections are important in SEO optimization because they link individual web content to each other, and at the same time help Google spiders understand the structure of your website. The more (meaningfully) the individual web content is connected via internal links, the better the web optimization of the website and consequently the SEO result of the website.
The difference between external and internal connections is shown in the figure below (source 1 -SEO Basics: internal link optimization – Sistrix):
What are the benefits of building internal connections properly
The benefits of building internal connections properly are several:
internal connections transmit t.i. "Link juice" (source 2 – Internal Linking Best Practices for SEO – ReliableSoft):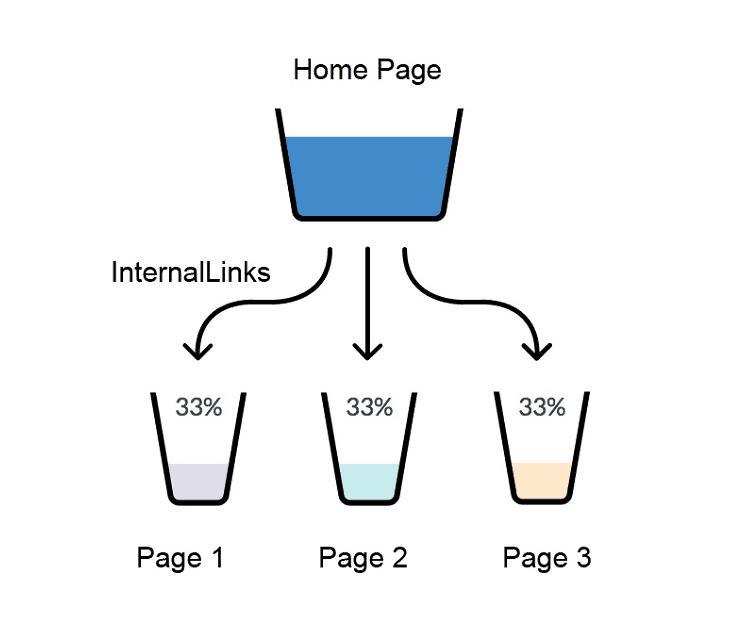 Each website (and subpage) has a t.i. link juice, and through built-in internal links, PA and DA websites are transmitted on the subpage. Thus, the subpages also gain in "power".
another benefit is that you have all the control over building backlinks, you. While in external links, in all cases, you cannot influence what the anchor text is, on the built link, in internal links, on the anchor text, you are 100% influenced by yourself.
the third benefit is that you don't have to worry about "over optimization". When building internal links, you can use anchor to be 100% accurate when it comes to using the exact keywords (with targeted urls) you want to appear higher in Google. In the case of building internal links, it is not about manipulating and abusing the links because the website and the content, on it, is yours. With an accurate anchor, you "only" want to "explain" to visitors of your website (and Google) as accurately and contextually as possible what content is behind the click on the internal link.
In its SEO Website Optimization Guide (Source 3), Google reports:
Hidden potentials of building internal links
Although (hopefully) the above explanation is very easy and understandable to read, it hides them, on most websites, many potentials and reserves, and some SEO experts even rank "internal links opportunities" among one of the greatest SEO opportunities optimally not used by most websites (source 4 – 5 SEO Tactics to Maximize Internal Links – Whiteboard Friday – Cyrus Shepard)
they are not built in the appropriate positions/positions/locations on the website. Internal links built from the footer or sidebar of web pages are not as "strong" as internal links from the editorial field of web content.
they are built too close to the beginning of the text. The very term "internal" suggests that the optimal position is internal links, more inside paragraphs and sets of texts (eg chapters).
they are not recognized as links to other web content. On some websites, internal links do not differ in any way (graphically, underlined, etc. () from other web content, which results in them not gaining clicks. However, it is considered that the internal connection is so much stronger than it manages to get a click on itself !!! (vir – 5 – Google's Reasonable Surfer Model: How Link Value Differs Based on Link, Document Features and User Data – Seo by the Sea – Bill Slawski):
internal connections do not reflect exactly what content is hidden behind the click on them. Too long internal links, according to some SEO studies (over 8 words) no longer transfer any power to the subpage, and at the same time do not tell exactly what the content is talking about after clicking on the link.
they are not meaningfully / contextually placed in the story in the web content in which they are built.
they are built on insufficiently "strong" web subpages or in general, (quantitatively) insufficient subpages
via incorrect anchor text on internal links, these confuse Google as to which url address to include in the search engine
too many internal connections built on one subpage result in a "weak flow" t.i. link juice to all related subpages
How to build internal connections
The figure below explains the simple logic.
Build "internal links" by linking the website's juice/strength to those web sub-pages/content you want to rank on Google, higher (source 6-9 Powerful SEO Benefits of Internal Linking in 2020):
From websites/subpages/content that you already rank high on Google, build contextual & marketing-attractive links to subpages/content that you are not yet the first to use on Google.
TIP: If you want to build from your website not only an SEO successful website (ie: a website that ranks high on Google) but also a website that "sells" well, don't forget to build internal links to your websites as well as content with which you pursue sales goals.
Conclusion: Proper linking of websites to each other is, in terms of higher ranking of websites, on the first page of Google, equally important for both large and small websites. The more your website progresses and grows, the more accurately and thoughtfully you will need to decide where and where to build links.
Check out our article on How to choose keywords for SEO!
Sources: