For all those who are looking for ideas on how to use email marketing for your business, below are 10 tips that you can use to make your email marketing campaigns more effective and, above all, more diverse.
One of the main challenges of effective email marketing for a business is providing a variety of content that you send to your potential and existing customers via email.
Too repetitive content in email marketing campaigns is one of the main reasons why the rate of unsubscribing from receiving emails from companies is very high and one of the main reasons why email marketing is not effective for many businesses.
On the other hand, email marketing remains firmly anchored among effective online channels because it is one of the most effective and at the same time the least difficult online channels (source 1):
Use email marketing for greeting messages
Newly connected to your database of recipients of messages of your company, it is not only respectful but also business-appropriate and recommended, on the first receipt of your e-mail, to greet and thank them for subscribing to your newsletter.
You can use greeting messages to get closer to e-mail recipients on a more personal level, while also announcing to them what they can expect from you in future e-news.
For an extremely effective approach in conducting email marketing for a business, it is significantly better if you inform your e-news recipients in advance when they can expect your news and what content they can expect in it.
At the same time, you can invite those who received your e-news for the first time to follow you on social networks and elsewhere.
They say iron is forged while it is hot.
New interested parties who have subscribed to your e-news are certainly in the hottest phase of interest or. interest in your business, activity, your company and your products. Greeting messages hide the potential to extend this interest of your audience into the future in a smart way.
According to one interesting marketing study, the effectiveness of welcome emails is by far the highest among all other messages (source 2):
READ THIS PART CAREFULLY:
Although email marketing is not directly related to other branches of online marketing (e.g. SEO website optimization, your participation in social networks, etc.…), you will ensure a higher rate of email opening in the future (by welcome email) by having your content creators prepare content for email marketing, in several parts. The high rate of opening e-mail addresses is maintained by trying to keep your recipients in anticipation.
Use email marketing to promote sales (with coupons and promotions)
You can improve your business with the help of email marketing by occasionally, in email messages, sending coupons with price discounts for products you currently have in sales campaigns.
One of the more common mistakes that do not contribute to the improvement of business (sales) through email marketing, but entrepreneurs achieve exactly the opposite effect, is too often sending sales content to their recipients of messages.
By informing your pool of news recipients with sales campaigns, you are diluting the attractiveness of the sales campaign itself. If you have already achieved your goal with the first sales campaign sent, the rate of those who open or follow your news may decrease with the frequent sending of sales news.
Why?
Because the e-mail inboxes of the recipients are already full of advertisements and shopping opportunities anyway. Such messages quickly roam the trash.
Send sales campaigns via email marketing from time to time.
According to one recent marketing survey (source 3), as many as 90% of customers shop with one or another coupon:
CAUTION WHEN USING THE TACTICS DESCRIBED ABOVE:
The use of coupons is especially recommended at larger stores. Smaller websites that offer services and have designed for this purpose t.i. lead generation websites are excessive or. use coupons in general, avoid. Because the granting of coupons is often not in tune with the size of the volume you perform in the market. Coupons, in this case, lower the price for you, and at the same time often represent a departure from personalization and a closer relationship with potential customers. Which small businesses tend to address.
Prepare special content only for subscribers to our newsletter
"Particularity" in all spheres of life brings with it a very special charm.
If a thing is intended only for the chosen, it carries with it a special weight and a special added value, simply because it is an exclusive matter.
CONSIDERATION:
If your e-news recipients can also read this same content that your company sends via email marketing on your blog website, there is actually no leverage in that to subscribe to your news.
Especially. If your team of content creators and those optimizing your website are so good that the content from your blog is on the first page of Google, it may not be possible for a very wide range of Google users to recognize the unique value it has. otherwise you run through email marketing.
SEO web optimization and email marketing go together, but be exclusive in email marketing !!!
On the contrary, for your business, it will have a significantly greater effect if you offer subscribers to your e-news, on your website, exclusive content intended only for those who follow you via e-mail.
It is true that this can bring more work, but even this step can be significantly accelerated if, in your email marketing appearance, you use t.i. email marketing automation. Details on this can be found at the link where it describes how automatic email sender works.
Use email marketing for BTB support for existing customers
A successful business is one that successfully takes care not only of new customers but also of those who have already purchased the company's products and services.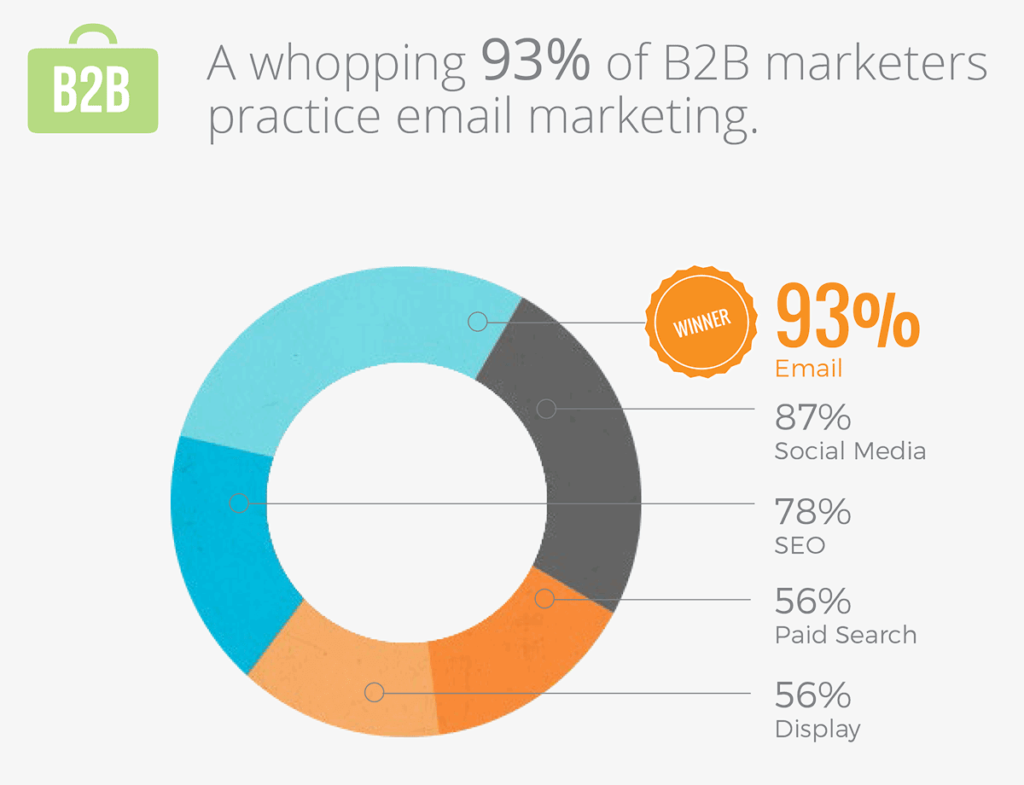 You can use email marketing to support your existing customers. You can send them via e-mail:
instructions for the safe use of the devices they have purchased,
instructions for using the services you have chosen,
a call and a reminder where to go if you have problems using your products and services,
notifications about upgrading your services, etc.…
The possibilities to keep in regular contact with your existing customers through email marketing are innumerable.
Not only will it seem nice to your customers that your company takes care of them even after they have bought your products or hired your services, but with such notification, you are also securing customers in the long run.
Use email marketing to ask questions
You definitely want to grow and expand your business. Research to develop new products and enter new markets may cost you a fortune.
But, at the same time, you have on the recipient side of your e-news, a complete source of information on how satisfied they are with your existing products and offer. To expand your email marketing business, ask questions:
what customers are missing from your existing products and offerings
what you would like to change in your relationship with them
what would help them even more in solving the problems that caused them to buy your product or hire a service
what products, in connection with your industry, are missing
etc.…
It is especially useful to monetize email marketing campaigns for the development of small businesses and startups, which often, due to the inability to expensive market research, do not even have a real chance to get real information about the market, and the benefits of email marketing for small businesses are described in great detail. Article Email marketing for small business.
Use email marketing to send invitations to company events
Does your company attend a variety of events?
Do you organize open days in your business?
Are you present at fairs, conferences and lectures with your business?
These are all events and opportunities to inform, address and inform your followers about your activities via e-mail.
One of your e-news recipients may want to talk to you, but can't find the time. Through email marketing, however, he learns that you will be attending his place at a local event next week. Perhaps one of the recipients of your e-news has forgotten that a fair is taking place near him next week, where your company will also be present.
Notifying and sending invitations to your events also tells e-mail recipients that you are active, alive, present in the market and that you are working. There's nothing worse than the feeling e-mail recipients get from companies they don't even know if and what's actually going on with them.
BONUS: One of the MAIN reasons why recipients of e-mails open e-mails are the name of the sender (source 5). Instead of sending e-mails from business e-mail addresses, consider how you could send them from a personal e-mail address (eg from a marketing manager)
Messages from company directors
The more expensive the products and services your company offers, the more detailed your existing and potential customers will be about your future, who runs your business, and how those who run the business think.
Messages from directors and heads of individual departments are a great opportunity for the recipients of your e-mails to get to know the operation and activities of your company more closely from the eyes of leaders.
Imagine a response to your e-mails if you invite the responsible director for development among the guests of your email marketing campaigns. Or the head of the complaints department.
The messages of company leaders in your marketing campaigns have added value in building closer contact with e-mail recipients, and surely anyone who buys more expensive products and services wants to know how they will be supported in the future.
Along with expensive products, there are questions about what happens to their product after the warranty expires, who to call if the product breaks down after 6 years, etc. on the menu of most.
Insight into the development of the company
In order to strengthen the brand and raise the awareness of your existing and potential customers about your company, it is occasionally recommended to communicate a series of historical turning points in the growth and development of your company via email marketing.
In this way, your followers and those to whom your brand means something, get additional information and confirmation of how your company is operating and what challenges it has all faced.
Insight into the historical development of your company has the added value of consolidating customers in the belief that you are able to adapt and face the challenges posed by development and competition, as well as circumstances (eg the situation related to the corona pandemic). ).
In particular, such content plays an important weight in activities, the sale of which is also based on the establishment of effective recommendations of companies and articles by existing users to new ones. This includes all companies that try, in one way or another, to cash in on the power of word of mouth and the power of commission systems in sales.
Quality and successful sales need stories.
Stories of business development and facing their barriers to success are a hot bundle of sales wherever sales are tied to the word of mouth and word of mouth.
BONUS: To use email marketing in your business as efficiently as possible, keep in mind at all times that the rate of opening and reading your emails increases in proportion to how you dose the reasons why the recipients of the messages, your messages, read. Give recipients a good reason to open your email. Then they will open it !!!
You don't necessarily have to look at storytelling in emails just through the prism of a company's historical flow.
Notices of participation in other media
"Others about us" news is not just "self-praise" as too many content creators like to understand.
By publishing news that you are present in other media, you are strengthening your brand not only in terms of business expansion, but also in terms of the perception of stability and growth among existing followers.
If your company appears in mainstream media, where you have not been until recently, and you inform your email recipients about it, they will accept this news as a sign of your strength and progress, as it is difficult to afford less presence in especially exposed media. stable company.
At the same time, attentive followers and regular readers of your e-news will perceive you as someone who "expands and develops" in a healthy and thoughtful way.
If you have published an interview in a medium that already has a recognized positive reputation or is even a professional medium that cannot be accessed in an easy way, just about everyone, by informing your e-news recipients, you have the opportunity to proudly tell them.
Recruitment notices
After all, you can also use your e-news recipient database to let them know about your new job opportunities.
Even if none of your recipients would be interested in working in your company, such a message to your recipients of e-news gives the perception that you are growing and evolving further. Which, in turn, contributes to increased confidence in your brand.
Sources:
1 – 6 Email Marketing Challenges And How To Overcome Them
2 – The Most Mind-blowing Email Stats
3 – Ecommerce Coupon Marketing Strategies: Give Discounts, Get a Lot More
4 – 35 B2B Email Marketing Statistics To Make You Look Smart
5 – THE SCIENCE BEHIND EMAIL OPEN RATES (AND HOW TO GET MORE PEOPLE TO READ YOUR EMAILS)