A lot of entrepreneurs still wonder "how do you create a sales funnel?" If the article on what a sales funnel is in digital marketing explains in detail what sales funnels are and how they contribute to more efficient digital marketing, the rest of this article explains in more detail how to make and plan a sales efficient sales funnel.
In the principle of how do you create a sales funnel the following steps are required to design and manufacture an efficient sales funnel:
a landing page must be made
the offer must be made in such a way that it adds unique added value to customers (compared to the competition)
it is necessary to nurture contacts who are interested in your offer
the sale needs to be completed
develop the sales funnel operation process further (eg by adding new offers and growing visitors who see your offers)
it is necessary to optimize the sales funnel
Landing website design and planning
With the question of how do you create a sales funnel the landing pages are basically separated into two. On the one hand, there are landing pages whose purpose is to obtain demand and which are usually and predominantly set for services and products for which the price is not necessarily definitively known in advance (eg craft services, courses and training, services, etc.).
On the other hand, there are landing pages in e-shops, where the basic purpose of the page where visitors land is to initiate and complete the purchase.
Between these two, basic divisions, there is a third explanation in which some marketers argue that, in fact, a landing website should each be a subpage on some web domain. After all, every content published on a website should have its own (conversion) goal.
It is advisable to consider the following key elements when designing and planning landing sites:
striking, marketing attractive and with an added benefit for the customer, the main title of the offer is described
video content that briefly (but easily understandably) explains the benefits that the customer receives when purchasing the service
easy-to-understand and obvious (stand out) call-to-action button (e.g. buy here)
genuine statements from satisfied customers
elements of trust (eg certificates, media mentions, statements of well-known clients,…)
explanations of payment options
Planned sales funnel
Depending on the case, when planning sales funnels, it is important to pay attention to the keywords that users type into Google and to identify the purpose that users have after using a keyword when searching on Google.
Content production and offer planning
The offer you are preparing for the market should take into account the following points:
be clear and easy to understand in your offer. Marketing experts describe this point as an effort to make a t.i. net supply. Try to present your offer to your visitors in such a way that from the first sentence of the offer, it is unambiguously clear what you are offering and what your solution brings to the future customer. A simply written offer does not contain more than two sentences in the title.
offer high added value. There is a very small probability that only you are present in the (online) market with your offer. Therefore, review competing offers (not just from a price point of view) and design your added value in the offer so that it surpasses competing providers. Ask yourself why someone would buy from you and not from the competition (not betting on the lowest price). Describe your added value as concretely as possible and avoid superficiality as much as possible (e.g. fast delivery, support included, etc. ().
Such, flat-rate values ​​are offered by practically everyone.
offer a premium price or discount. Please note that the discount or. premium price mentioned after the point where high added value is described. If your offer is based only on a low price opportunity and not primarily on high added value, you will be forced to sell more and more, instead of more and more quality.
explain your offer. If you have said what you are offering in the main title of your offer in a quick and in one sentence, understandable way, your presentation of the offer, below, deserves further explanation. In a few points, specifically, write what the customer gets with the purchase or ordering your service.
plan your offer so that it requires an immediate response. The incentive for quick response can be additionally equipped with a timer, which indicates the time until the end of the offer, with information that informs how many pieces of products are still available, etc.…
the call to action should stand out, be visible and concrete (eg order now, order here),
add a warranty statement. Warranty conditions should not be too general, but as specific as possible in connection with the product or. the service ordered by the customer.
How do you create a sales funnel – nurturing the contacts of those interested in buying
Any of your visitors who arrive at your landing websites and view your offers will not decide to buy immediately, despite the allure of your offer. In some marketing agencies, they even have a precisely measured at which average return visit of visitors, the most purchases are realized.
As a rule, immediate purchases at the first visits to the offer are realized in the purchase of more affordable products and services and in products and services that are characterized by t.i. spontaneous, fast shopping (eg jewelry, clothing, footwear, cosmetics, food supplements, etc. ()
In the case of more expensive products and services, the purchase occurs more often, only on the basis of a conversation between the prospective buyer and sellers and consultants, and often also on the basis of a comparison of buyers with similar solutions and products from other providers.
This means that it is advisable to plan your sales funnel so that you do not miss visitors who do not decide to buy at the time of viewing your offer. These visitors usually view other content on your website, may start following you on social networks, etc.…
Prepare online content for these visitors that contains t.i. lead magnets, through which visitors leave traces. Through these tracks, you gently remind visitors of your existence and the existence of your solution (in the form of your products and services). Nurturing traces (i.e. leads) can take place through email, engaging on social media and the like.
Among the most effective tactics for nurturing the contacts of those interested in buying are:
potentiation of levers for purchase. You dose the target audience with content that explains and displays additional arguments for
the purchase decision.
simultaneous use of several channels for customer care (social networks, email marketing,…)
appropriately timed marketing campaigns
personalized content
tactics through the assessment (segmentation) of leads, i.e. lead scoring tactics
The effective tracking tactics are shown in the Figure below: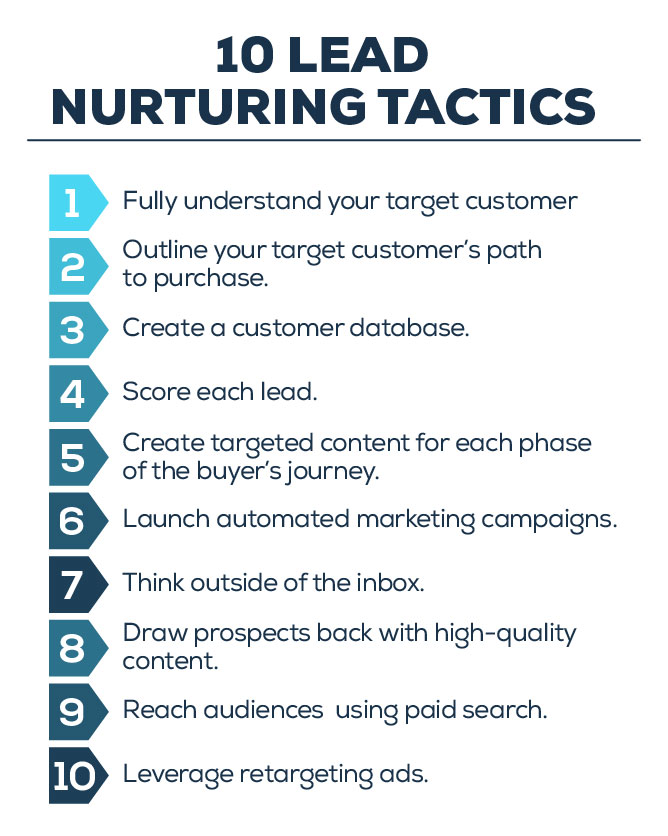 Closing the sale
To answer the question how do you create a sales funnel it is crucial for the successful completion of the sale that your striking content in the sales funnel:
it works genuinely
clearly explains the benefits to the customer
affects the emotions of potential customers
it does not seem sublime
takes responsibility for the customer's problems
Online sales do not differ much from classic, physical sales, in this sense. Just as it is necessary to know how to "hear" the problems of potential customers in physical sales, it is also necessary to know how to prepare sales content so that the customer feels that you, as the provider, understand the customer's problem.
Similar to physical sales, online sales should not be sublime and unreliable. Confidence, belief in your solution, sales!
Useful video on closing the sale:
Development of the sales funnel operation process
Each sales funnel can be developed and improved further.
When you have established effective sales of one product or one service through a manufactured sales funnel, new challenges in improving sales are manifested in adding new products to the sales funnel (in a way that does not undermine the sales efficiency of originally planned products and services).
The performance efficiency of your sales funnels process is related to identifying (measuring) the points/stages at which your existing sales funnel is less efficient.
The individual stages of the sales funnel that you can measure are:
monitoring the growth of growing traces that you nurture against the purchase
measuring conversions to purchases on landing websites
trace quality assessment (trace segmentation)
etc.….
Sales funnel optimization
Sales funnel optimization is designed to achieve multiple goals.
By optimizing the sales funnel, you get more visitors to see your website and consequently land on the landing pages, by optimizing the sales funnel landing pages, you improve conversions, and by optimizing the web content on your website, you achieve greater visibility and useful value for your followers.
In principle, the optimization of the sales funnel is divided into two directions:
with SEO optimization you achieve the higher ranking of your web pages in the search engine (Google) and consequently higher
traffic of your web pages
With CRO optimization, you achieve greater efficiency in terms of conversions
Basically, the optimization of the sales funnel includes:
more accurate knowledge and identification of customer needs and problems
better preparation of informative and educational content that answers the most frequently asked questions of future customers
Improve conversion tracks received
use of media content that triggers audience response (video content, applications, etc. ()
thoughtful use of customer testimonials
preparation of convincing supporting content
Improving CTA button conversions (based on A / B testing)
reducing barriers to completing purchases and filling out forms
SEO purpose: How do you create a sales funnel
Sources: